Digital X-Rays – Copperas Cove, TX
Identify Dental Problems Under the Surface
X-rays have been a crucial part of dental care for years, allowing dentists to identify and treat concerns that are inaccessible to the naked eye. However, the traditional process of capturing them on film came with several pitfalls. The images had to be developed in a darkroom with hazardous chemicals, and bulky filing systems were required to store them. Finally, radiation exposure was significant and potentially harmful to patients. This is why we utilize digital x-rays at our Copperas Cove, TX dental office.
Reduced Radiation, Radical Results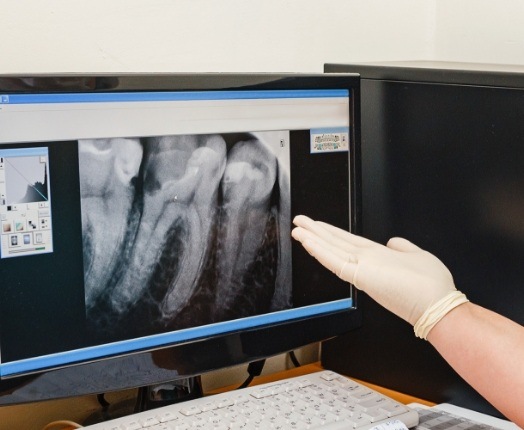 Thankfully, digital radiography has transformed this process for the better, making it faster, safer, and more comfortable. Now, we use a small sensor that instantly captures high-resolution images of your smile and transfers them to our computer system in seconds. Before you know it, you're viewing your teeth on a convenient chairside monitor.
Are you seeing another specialist who needs to view the dental X-rays we've captured? Does your insurance company require them before providing deserved benefits? No problem – reproducing and transferring digital X-rays is a fast and simple process. The lack of hazardous chemicals and physical storage makes the process more environmentally friendly as well, and the technology allows our team to reduce radiation exposure by up to 90%!