Oral Cancer Screening – Copperas Cove, TX
A Routine Dental Exam Could Save Your Life
One person dies from oral cancer in America every hour, on average, and nearly half of the tens of thousands of dental patients diagnosed this year won't survive five more years. This happens because oral cancer typically isn't identified until it reaches the advanced stages, reducing the chances of recovery. We take this threat seriously – that's why we make oral cancer screening in our Copperas Cove, TX dental office a critical part of every routine dental checkup. Contact us to schedule your next visit.
Why Choose Benchmark Family Dental for IDENTFI Oral Cancer Screening?
Leading-Edge Technology Detects Earliest Warning Signs
We Prioritize Your Comfort Above All Else
Friendly Team Providing Outstanding Customer Service
When Should I Get an Oral Cancer Screening?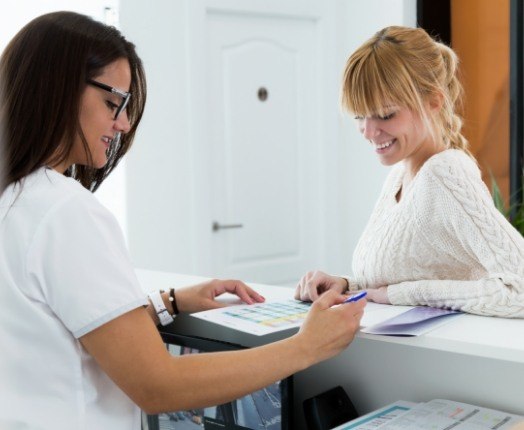 All adults should undergo an oral cancer screening with Identifi at least once a year during regular dental exam visits. Common risk factors include:
Heavy smoking and drinking
Being a man over 40 or a woman between the ages of 20 and 40
Autoimmune deficiencies like those found with diabetes and HIV
It's important to remember that nearly 25% of oral cancer cases manifest in patients who don't exhibit any of these factors.
With Identifi, locating the presence of oral cancer is easier and more accurate. Any potentially cancerous or precancerous areas will be illuminated in a distinctly different way than surrounding healthy tissue, allowing us to pinpoint them and help you take the next step toward a biopsy and a diagnosis.