Emergency Dentist in Copperas Cove
Dental emergencies can be sudden, frightening, and inconvenient. If you or a loved one is experiencing severe dental pain or a significant injury, don't hesitate to contact Benchmark Family Dental right away! – Our dedicated doctors and team members are here for you during these difficult times. We'll do everything in our power to see your case as soon as possible and provide much-needed relief. If your injury involves heavy oral bleeding or extends beyond the realms of typical dental care, please proceed to an emergency room in your area.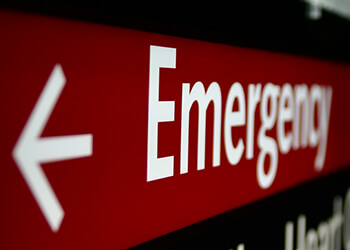 In certain emergency situations, you can stabilize or even improve your condition with a few helpful tips before you're able to reach our office. These include:
Lost Temporary Crown
Do you still have the restoration? If so, carefully dry your tooth, apply a small amount of toothpaste to the temporary, and place it back into its original position. Temporary adhesive and dental wax can also work for this. Then, contact our office right away so that we can arrange a time to professionally reattach the temporary crown.
Knocked Out Tooth
Do you still have the tooth? If you do, hold it by the crown (NOT the root) and carefully rinse away any foreign debris under water before placing it back into its original socket and holding it in place. If this isn't possible, hold the tooth in your cheek or place it a cup of milk and bring it with you to our practice. Time is of the essence when it comes to whether or not reattachment can be successful, so make sure to reach out to us as soon as possible for assistance!
Cut/Bitten Tongue or Lip
Clean the area of the cut and then keep a cold compress held against the area. If significant bleeding continues, we recommend that you proceed to the nearest emergency room. Stitches may be needed.
Broken Tooth
Rinse the tooth with warm water as soon as possible. If any significant portions of the tooth have broken off, bring them with you to our practice. In the meantime, a cold compress against the appropriate cheek can help reduce any facial swelling that occurs.
Badly Injured/Broken Jaw
Apply a cold compress and go straight to your nearest emergency room as soon as possible. If you've experienced any damaged and/or lost teeth in the incident, contact Benchmark Family Dental as well so that we can arrange reconstructive care after your initial treatment.
Severe Toothache
Is it possible there's something in the mouth that's causing the pain? Rinse and floss thoroughly around the affected tooth in order to dislodge any debris. Don't place any aspirin directly on the tooth or surrounding gum tissue, as this can cause painful damage. If the pain continues, reach out to our doctors right away!
Something Caught Between Teeth
Use dental floss – NOT a sharp object – to remove the object as carefully as possible. If you aren't able to dislodge it successfully, contact our practice for help.
Whether you're searching for emergency aid or in need of a routine appointment, our Copperas Cove, Tx practice is open to patients of all ages. We serve the areas of Bell County, Lampas County, and beyond.