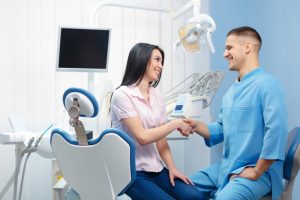 With the sun shining its brightest and the days lasting longer, summer just makes you want to smile. If you're a little hesitant because of some imperfections, you'll be happy to know that there are 3 forms of cosmetic dentistry to boost your smile aesthetics. Therefore, you can look and feel like a brand-new person. Continue reading to find out what a dentist in Copperas Cove can do for you!
#1 – Teeth Whitening
If you drink coffee or other darkly pigmented beverages on a regularly basis, then you may have noticed your teeth becoming stained. Professional teeth whitening provides a safe and effective way to address stubborn discoloration that mere toothbrushing can't address. In many cases, patients are able to see their smile brightened by as much as eight shades.
By having the procedure professionally done, you can avoid gum irritation and the fickle results that are often delivered by store-bought whitening kits. Better yet, you'll be able to see immediate results.
#2 – Esthetic Bonding and Contouring
Have chips, stains or other imperfections left you feeling insecure about your smile? If so, you may consider esthetic bonding and contouring. One of the more cost-effective ways to improve your smile, it delivers same-day results.
The procedure involves the dentist applying composite resin material that has been shaded to match perfectly with your other teeth. After hardening it with a special curing light, the dentist will contour and polish the area to leave you with a completely new look.
#3 – Porcelain Veneers or Lumineers
Custom crafted from the highest quality ceramics, porcelain veneers can completely revitalize your smile and leave you looking like a brand-new person. The procedure starts with the dentist removing a thin layer of tooth enamel and taking bite impressions that will be used to fabricate your permanent veneers.
At a second visit, you'll have the veneers cemented in place to leave you ready for the world. However, if you're looking for a smile improvement option that is a little less invasive, you may consider Lumineers.
Similar to veneers, Lumineers fit directly to your front-facing teeth. However, they are thinner than veneers. Thus, no enamel removal is required before they're placed. Another perk is that the procedure isn't permanent. Later, if you decide that you want to take another cosmetic treatment route, you'll still have that option.
Which Route Should You Take?
Deciding which cosmetic dental procedure is best for your smile desires can sometimes be a little confusing. That's why it's so important to start by scheduling a consultation with a cosmetic dentist. This will allow you to have your smile assessed, get all the information you need, ask questions and make a confident decision. Therefore, you can spend the rest of your summer letting your gorgeous new smile shine as bright as the sun!
About the Author
Dr. Daniel Caraveo earned his dental degree from the Baylor College of Dentistry. A well-rounded professional, he understands how important it is for your smile to be as attractive as it is healthy. Therefore, Dr. Caraveo offers superb cosmetic dental care for the perfect summer smile at Benchmark Family Dental, and he can be reached for more information or to schedule a visit through his website.