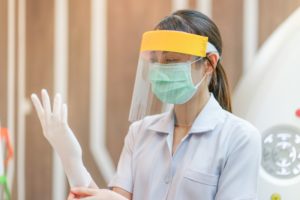 Due to the nature of their work, dental professionals have always gone above and beyond to keep their patients safe from germs. They use high sanitation standards and thorough disinfecting procedures to protect you from the common cold, the flu, and other sicknesses during your treatment. These already ambitious infection control protocols are being raised even higher in order to keep you as healthy as possible during the COVID-19 pandemic. Here are four items your Copperas Cove dentist may be wearing at your next dental appointment to keep you and themselves safe from the coronavirus.
Disposable Gloves
Disposable gloves have long been a staple in your dentist's working wardrobe since their hands come in close proximity to all their patients' mouths. Bacteria, viruses, and infected particles can't pass through disposable gloves. This prevents both the patient and the wearer from spreading germs to each other while dental care is administered. After the treatment is finished, your dentist is very careful to avoid touching anything, including sink handles, light switches, or their face. The gloves are thrown out in a dedicated receptacle to contain any infected particles. Then, your dentist washes their hands and puts on a clean pair of gloves before seeing their next patient.
N95 Masks
COVID-19 is transmitted via infected respiratory droplets. While these particles are primarily dispersed when a sick person coughs, sneezes, or talks, they can also be spread via aerosols. Unfortunately, this puts your dentist at a higher risk of catching the coronavirus since many dental services generate aerosols. High quality N95 masks are essential to protecting the wearer's nose and mouth from airborne particles that could make them sick. Similar to gloves, they also prevent the spread of any germs from the wearer should they be sick without knowing it.
Face Shields
A new addition to your dental team's working wardrobe that you may not have seen before is the face shield. These clear plastic visors are designed to cover most of the face, including the eyes, nose, and mouth. Unfortunately, they don't form a seal with the wearer's face and therefore don't provide adequate protection against airborne particles. However, they are a very effective measure to prevent the spread of germs through splashes or sprays of body fluids like spittle. They are designed to be comfortable and easily sanitized between patients.
Single Use Protective Coats
For some appointments, your dental team may wear plastic, disposable coats. This prevents any infected particles from settling on the wearer's skin or clothes, which could then be easily spread throughout the practice. Instead, the used protective coats are discarded safely in order to contain any germs that may have landed on them during treatment.
Now more than ever, your dentist and their team are utilizing a wide variety of equipment to keep you healthy during your appointment. If you need to come in for urgent dental care, you can feel confident that they are prepared and able to keep both you and your smile healthy in the pandemic.
About the Practice
At Benchmark Family Dental, nothing is more important than the health and safety of our patients. To continue to keep you, our staff, and the entire community of Copperas Cove, TX healthy during the pandemic, we have added an additional 14 steps to our normal infection control protocols. Alongside the sanitation standards set forth by the Centers for Disease Control and Prevention that we've always followed, we will be wearing a variety of new personal protective equipment like the ones listed above. If you have any questions or concerns, feel free to reach us via our website or at (254) 547-4866.