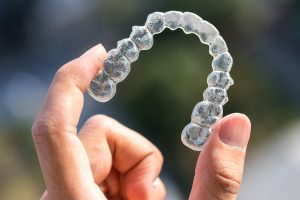 Starting Invisalign treatment is exciting — you can achieve your dream smile in a discreet and flexible way. However, before you set your heart on Invisalign in Copperas Cove, you should make sure it's right for you and your lifestyle. In this post, your dentist explains five truths about Invisalign to know before you try it.
You Have to Be Dedicated
To achieve your desired results, you need to be self-disciplined enough to actually wear them. The aligners should be kept in for 20-22 hours a day. Because Invisalign is removable — and needs to be taken out before meals and brushing your teeth — you may have to carefully schedule your time.
Invisibility is one of the main advantages of Invisalign, so you also have to be committed to proper cleaning. You'll need to brush between every meal to prevent food particles from staining your aligners. However, when cleaning your aligners, never use toothpaste. This can turn them a murky yellow.
Your Mouth Will Need to Adjust
As with any orthodontic treatment, you will experience an adjustment period during the first few days. Invisalign is painless, but your teeth may be sensitive at first. It's also possible that your speech may be affected for a short period. While many patients report no issues with talking, you might experience a slight lisp as you get used to your aligners.
Invisalign Isn't for Everyone
Invisalign can treat most orthodontic issues, including crooked teeth, bite issues and gapped teeth. However, it might not be well-suited for severe cases. Complex orthodontic issues may get quicker results with metal braces or surgery.
You'll Have to Cut Back on Coffee
Drinking anything that can stain your teeth—most notoriously coffee, wine and tea—will also stain your Invisalign. While you can enjoy these drinks during your meal periods, you won't be able to sip on them throughout the day. Anytime you consume these drinks, you'll have to brush your teeth afterwards. Those who rely on multiple cups of joe in the mornings might have to find a different way to start their days.
It's Easier on Your Mouth Than Metal Braces
As mentioned before, Invisalign is virtually painless. You won't have to suffer through getting them tightened like with metal braces. Invisalign also won't cut your mouth or result in sores. Treatment time with Invisalign is generally faster than with metal braces. The average treatment takes one year, although your specific needs may lengthen or shorten this amount.
Although Invisalign needs to be adjusted to, the transition isn't any more difficult than what metal braces or other orthodontic appliances would require. If you're interested in Invisalign, talk to your dentist to see if the treatment is right for you.
About the Author
Dr. Derek Stringham strives to create a comfortable and friendly environment for every patient. He is a certified Invisalign provider. If you have further questions about your orthodontic needs, he can be contacted through his website or at 254-547-4866.