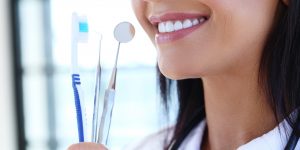 Your smile is one of your most important assets — but if yours isn't looking quite at its best, you may be reluctant to speak or smile when you otherwise would. Unfortunately, hiding your teeth can make you look shy, nervous, or checked-out of life. Did you know that cosmetic dentistry in Copperas Cove offers help for damaged smiles? Whether it's a minor improvement you're interested in or a full smile makeover, your dentist can help. Keep reading to find out how.
Popular Options in Cosmetic Dentistry
Cosmetic services from your dentist are more affordable and accessible than ever these days, and there are usually a range of treatments available for achieving the smile dreams of just about every patient. From straighter teeth to a dramatically brighter smile, you can take your pick from the following treatments:
Invisalign clear braces: An orthodontic treatment that helps by improving the alignment of your bite without covering your teeth up with metal brackets and wires in the process

Professional teeth whitening: This option can brighten the tooth enamel by up to 8 shades after just one treatment

Porcelain veneers and Lumineers: Thin coverings that can be affixed directly to the surface of the teeth that show when you smile, veneers and Lumineers offer a more dramatic improvement

Bonding and contouring: For minor chips and stains or other small imperfections, tooth bonding and contouring can even out the tooth enamel or the gums and improve the overall appearance of the smile.
Smile Makeovers for Significant Damage
Sometimes, dental imperfections are more significant than what can be fixed with just one or even two treatments. If your smile needs a real overhaul, your dentist in Copperas Cove may recommend a full smile makeover. This is a comprehensive treatment plan that makes it easier to correct everything under one umbrella, rather than completing multiple procedures piecemeal over the course of several years. A smile makeover may include any of the treatments listed above as well as restorative treatments for functional issues.
Benefits of Cosmetic Dentistry
Some people feel like improving the appearance of their smile is a little indulgent or at least not all that necessary — but the benefits of cosmetic dentistry are truly significant, and can affect your overall health as well as your smile confidence.
Some of the most significant advantages of cosmetic dentistry include:
Increased self-confidence with a dazzling smile

Improved oral health and reduced risk of gum disease (many people take better care of their teeth once they are proud of the way they look)

Multiple treatment options for customized results

Most patients are eligible for cosmetic dentistry

And many more!
Don't wait to get started with cosmetic dentistry — you deserve to smile with full confidence!
Meet the Practice
Benchmark Family Dental offers comprehensive dental care for friends and families across the Copperas Cove area. With a full list of cosmetic dentistry options, this team is truly passionate about transforming smiles. Learn more about your potential treatment plan or schedule an appointment by calling 254-547-4866 today.