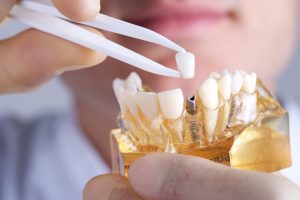 Did you know that people between the ages of 20-64 have an average of 3 missing or decayed teeth? Tooth loss, while remarkably common, can cause people to be self-conscious and create issues with speaking and chewing properly. But luckily, when you work with your dentist in Copperas Cove, you can eliminate all these issues by replacing your missing teeth. In this post, the team at Benchmark Family Dental explains how dental implants can restore your smile to its former glory.
What Are Dental Implants?
Before we dive into the benefits of dental implants in Copperas Cove, Dr. Patrick O'Malley likes to explain what they are. These consist of three parts:
Implant Post – The dental implant itself is the biocompatible titanium post that will be placed in your jaw with routine oral surgery. This will fuse with your jawbone and create the stable foundation for the other two pieces.
Abutment – Generally made of metal or white zirconia, the abutment is the pieces that connect the implant post to the tooth-shaped cap. You'll never see the abutment since it resides under your dental crown.
Dental Crown – This is the part of the implant that looks and functions just like your natural teeth. Made of porcelain or porcelain-fused-to-metal, this aspect of the replacement tooth will be so life-like, the only person who'll know you have a prosthesis is you.
What Is The Process For Dental Implants?
The process for dental implants includes the following:
You'll start with a consultation and examination with Dr. O'Malley, wherein he'll create an individualized treatment plan to restore your smile.
You'll have oral surgery to have the implant post placed – if your jaw lacks the required density to place the implant securely, you may need to have bone grafting done to augment the structure. This can be done either in a separate procedure or at the same time, depending on your dental health situation.
Your jaw will heal and the post will lock into place during a process called osseointegration, which generally takes about 3-6 months.
Once you've healed, you'll have the abutment and dental crown placed and you can start showing off your radiant, restored grin!
Why Are Dental Implants Superior To Other Options?
When compared to dental bridges and dentures, dental implants are the optimal solution for many reasons, including:
They decrease the impact of gum disease on your remaining teeth.
They're easy to clean and maintain.
They won't wiggle or shift when you speak, chew, or even kiss your sweetheart.
You don't have to remove your artificial teeth at night since dental implants are stationary.
They increase the strength and density of your jawbone.
They are, by far, the most realistic and life-like replacement tooth option.
Now that you know how dental implants can bring back the winning grin you once had, schedule your appointment with Benchmark Family Dental today!