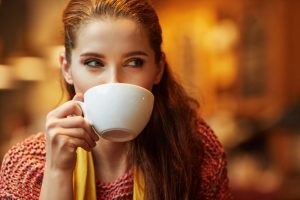 As we go through our day, we perform a lot of habits that we eventually become unconscious of. Some of these habits, unfortunately, can cause long-term damage to our teeth. The habits your dentist in Copperas Cove mentions may surprise you, but just know they are trying to protect you from future dental damage (and expensive dental bills.)
That's why it's worth giving this list a once over to make sure you aren't unintentionally damaging your teeth. It's the part of your body that lets you eat, speak, and laugh without trouble, so it's worth taking care of.
You Might Be Staining Your Teeth Without Realizing It
When you start your day, do you do so with a large pot of coffee? What about a dark tea such as black tea? Maybe you even start it with a cigarette to wake you up followed by a soda later with lunch. Regardless, all these habits can stain the porous surface of your teeth.
To keep your teeth shining bright, you'll want to either cut out or minimize exposure to these foods and drinks:
Colored sodas
Coffee
Black teas
Wine
Deeply colored sauces such as tomato, curry, or soy sauce
Dark fruits and vegetables (ex. berries and beats)
If you must consume drinks like coffee, be sure to do so either through a straw or in tandem with water to help rinse it from your teeth.
Your Teeth Should Not Be Used as a Tool
If you've used your teeth to open a package in the mail or perhaps a bottle, you're damaging your tooth enamel in the process. Any inedible object should be as far away from your mouth as possible. This includes pens, fingernails, and other objects you might nervously chew on.
Active in Sports? Your Mouth is at Risk Without Protection
If you play football, you likely already wear a mouthguard to prevent extensive damage from a bad tackle. However, other sports are just as susceptible to face trauma. If you participate in soccer or basketball for example, you can still get elbowed in the face or take a nasty fall, risking damage to your teeth in the process.
If you haven't already, purchase a mouthguard to use while participating in these sports. See if your dentist can fabricate a custom one that matches your mouth exactly.
Watch What You Eat and Watch Your Bites
When it comes to oral health, your diet plays a major part. The harder the food, the more likely it is to accidentally crack a tooth or remove a dental crown. For example, if you ever chew on ice, it's entirely possible to crack a tooth. To your dentist in Copperas Cove, ice is basically like chewing on rocks. Instead, suck on the ice chip and let it slide down your mouth.
Furthermore, be careful when you go to bite that food off your fork at dinnertime. If you aren't careful, you might bite directly into the fork itself, causing a sharp pain at best and a broken tooth at worst.
Have more questions for your dentist in Copperas Cove? Schedule an appointment today to learn habits that promote good oral health!
About the Author
Dr. Daniel Caraveo says his favorite part of working at the practice is the knowledgeable and hard-working staff. After working as a dentist in the U.S. Army, he earned his BS at St. Mary's University and earned his DDS from the Baylor College of Dentistry. To learn more about his practice, contact him at (254) 547-4866 or visit his website.