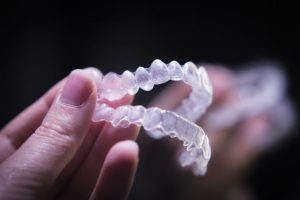 Every morning you struggle to remove all the plaque and food debris from your mouth. There's always something caught inside your mouth from the night before that you though you caught during evening brushing. You want to get your teeth realigned, but you know braces are only going to make brushing more difficult. Not to mention all the food that gets caught in the wiring.
Thanks to Invisalign in Copperas Coves, you don't have to worry about that. Before your next dental visit, consider the following benefits clear aligners could provide you.
Clear Aligners Allow More Convenience
One of the largest differences between Invisalign treatment and traditional braces is their removability. Even though clear aligners are meant to be worn between 20 and 22 hours a day for shifting to work, you can still easily pop them out for multiple occasions. Whether you're eating or brushing as normal, or you want to show off your teeth at a formal occasion.
You won't have to worry about the foods you love getting caught in the wiring and brackets that come with metal braces. There's no need to change your brushing habits either, so eat what you want and brush just like before!
Invisalign Has Proven Results
Thanks to Invisalign's patented SmartForce and SmartTrack technology, your dentist is full capable of knowing which teeth are going to move where. In fact, it's been clinically proven to achieve 75% more predictable tooth movement, so you can feel confident knowing Invisalign will get you a straighter and healthier smile.
Invisalign Provides a Shorter Treatment Time
While traditional braces are entirely capable of bringing you significant results, they can't do it as quickly as Invisalign can. On average, adults can expect their Invisalign treatment to take 12 months. Comparing that to the 1 ½-3 years traditional braces need to shift teeth, it's clear which option provides quicker results.
As an added bonus, you won't have to spend as much time in the dental chair to make constant adjustments with your orthodontist. Less office visits means more money in your pocket in the long-term.
Invisalign Let's You Keep You Keep Your Image
Invisalign is ideal for teenagers and adults because by that age, teeth are finished developing. That means clear aligners won't negatively impact oral development. Whether you're a teen trying to fix overcrowding or an adult who didn't wear a retainer when they had braces in their youth, Invisalign in Copperas Cove can meet the demand.
If you already work in a professional environment, you likely have an image that you'd like to uphold. Since the aligners are clear, there's a much lower chance that your coworkers will even notice that you're undergoing treatment.
Don't live with crooked teeth. Improve your bite with Invisalign today!
About the Author
Dr. Daniel Caraveo worked as a dentist in the U.S. Army before practicing at Benchmark Family Dentist, which is also an Invisalign 2017 Preferred Provider. After earning his BS from St. Mary's University, he went on to earn his Doctor of Dental Surgery from Baylor College of Dentistry. To learn more about his practice, contact him at (254) 547-4866 or visit his website.