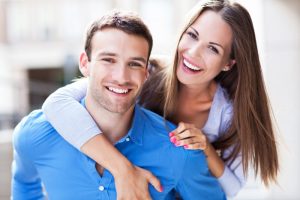 Most people would love to make a new year's resolution stick, but few of us fail to make it past January or so. This year, instead of vowing to go to the gym or give up your love for ice cream, your dentist in Copperas Cove suggests making a change that will really stick. Committing to your oral health with the following tips can make a big difference — keep reading to find out how you can show your smile some love in 2018!
#1: Go Electric
If your old manual toothbrush is caught in the stone ages, it may be time to consider upgrading to an electric version. Sure, you can achieve the same level of clean with a manual brush — but it's just a lot harder to do so. Most people have less tartar buildup and easier dental visits after investing in a powered brush. If you find yourself with a gift card or a little cash windfall after the holiday season, we suggest making a purchase that will benefit your oral and overall health for years to come. Feel free to ask our office for a great recommendation if you need one!
#2: Be a Better Flosser
Most people know they should floss at least once daily, but when it comes down to it, few manage to do so. The truth is, though, that using dental floss is the only way to remove the plaque and food particles your toothbrush leaves behind. People who floss are less likely to experience tooth decay, gum disease, and bad breath. Commit to flossing in 2018 — start the habit by leaving the dental floss somewhere you are sure to see it after you brush, like right beside the faucet or even on your nightstand.
#3: Kick Bad Habits
No matter how well you brush and floss your teeth, your day-to-day habits can take a serious toll on your oral health. If you smoke, bite your nails, or frequently chew on a pen or the ice that's leftover in your drink, it's time to rethink these actions. People who smoke or use tobacco are at a much higher risk of developing gum disease and oral cancer. And the other habits — even though you may not think they amount to much — can lead to broken, chipped, or weak teeth.
#4: Get to Know Your Dentist!
Most patients should visit the dentist twice a year, and some people need to attend appointments even more frequently to get help for gum disease treatment. In 2018, we hope you will commit to visiting our office for regular checkups and cleanings! We are now scheduling appointments for January, and we can't wait to help you welcome the New Year with a clean, healthy, and beautiful smile.
About the Practice
The Benchmark Family Dental team provides high-quality, comprehensive dental care for patients of all ages. To learn more about their services or to schedule your first appointment for the New Year, we invite you to contact the office at 254-547-4866.