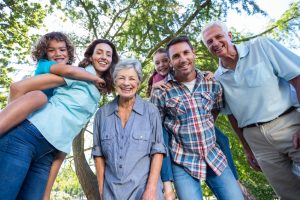 You're watching a late-night talk show and they have a plate-spinner on. After a while, you aren't even watching the plates because the spinner is having to dart so quickly between them. Their feet is where all the action is. You start to think that this is very similar to managing your family. Everyone needs your attention to keep going, and if you ignore them, it can just go to pieces. Unlike the plate-spinner, when it comes to your family's dental care, you can take care of it in one place. Here's why you only need to take your family to Benchmark Family Dental, with your dentist in Copperas Cove, TX.
Preventive Services
The best way to treat most dental issues is to prevent them altogether. This is why the team at Benchmark Family Dental offers a variety of preventive services. It all starts with a standard dental cleaning and check-up. A professional cleaning is able to reach spots in your mouth that you simply can't with brushing and flossing, and our exams assure that any small dental issue you have now will be taken care of early. We go beyond treating your teeth as the gums are just as important when it comes to your oral health. Gum disease is actually one of the leading causes of tooth-loss, so we make sure they get our professional attention. We can even help you with difficult problems such as nighttime teeth grinding.
Restorative Services
Whenever one of your teeth has been damaged due to decay or injury, it needs to be repaired so it can function and look normal again. Our restorative services can help rebuild your family's teeth no matter what condition they are in. We can take care of cavities without affecting the appearance of your smile with tooth-colored fillings. Teeth that have been extensively damaged or are missing entirely can be completely restored using custom dental crowns and bridges. Root canals are a routine and painless procedure that can fix severe cavities. They will help relieve your discomfort, not cause it. We can even help bring your smile back to life with a set of partial or full dentures. We are prepared to deal with and fix any trouble that your teeth may encounter.
Cosmetic Services
Our teeth also serve as an important social component in our daily lives. They are often the first thing people notice when we meet them, which is why we help you to make them look their best. We can take years of stains off of your teeth and make them shine with teeth-whitening, or give them a complete makeover with porcelain veneers. Minor problems like chips and gaps can quickly and easily disappear thanks to cosmetic bonding and contouring.  We can also straighten your teeth without the hassle of metal braces thanks to Invisalign. We not only want your family's teeth to be healthy, but beautiful as well.
Sedation Services
Many patients avoid dental care every year because they are anxious about going to the dentist. We feel deeply for them, and this is why we offer a variety of sedation techniques to help ease their discomfort and calm their mind. We want to make sure that your next visit to the family dentist in Copperas Cove, TX is stress free.
Any Questions?
If you would like to know more about why Benchmark Family Dental is the ideal place for your family's dental care, please give us a call today. We know we can take care of anything they need now, or may need in the future. We can't wait to help you all smile.