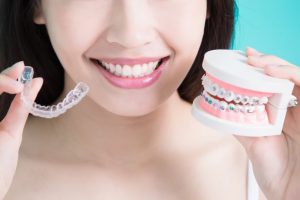 Now that you're older, you notice that your smile isn't as straight as it should be. When one of your friends pulls out their camera to take a picture, you know your tight-lipped smile is going to be a bummer to look back on. But the problem is, if you want to straighten your smile, you won't be able to get that promotion or jump back in the dating pool with a mouthful of metal and brackets. You're in a dilemma, but getting Invisalign in Copperas Cove could be your solution! Here are some benefits of Invisalign and what it can do for you that traditional braces can't.
What is Invisalign?
Invisalign is an alternative to traditional braces that consists of a series of custom-made aligners that are to be switched out every two weeks or so. Similar to retainers, they gently straighten your teeth so you can achieve your perfect smile. The clear aligners are developed from impressions of your teeth that are taken by a dentist, making them unique to you. They can be used to correct some common dental problems like gaps in your teeth, crowded teeth, and mild bite issues.
How Does Invisalign Compare to Braces?
Your Invisalign trays will offer you benefits that metal braces can't. First and foremost, they will correct and straighten your teeth in significantly less time than braces, plus you won't have to schedule appointments to tighten them. No repairs, significantly less follow-up appointments than braces, and if they're broken or lost, they can be easily replaced by your next aligners.
It's a hassle cleaning between brackets and wires, but not with aligners. You will simply remove them, brush your teeth, rinse your aligners, and that's it. With minimal maintenance, it's easier to go about your day-to-day life and keep up with your oral hygiene.
You don't have to give up your favorite foods or deal with the cuts and irritation that braces can leave on your lips. With braces, you have to stop eating your favorite snacks like popcorn, candy, nuts, bagels, and the list goes on. Because your trays are removable, you can simply take them out before each meal or snack and not have to worry.
Since Invisalign is practically invisible, you won't have to be self-conscious of your smile while you're being treated. Instead of attempting to keep your lips sealed in every selfie and family picture because of your braces, let your grin shine through your unnoticeable aligners.
To avoid all the inconveniences of braces but reap the rewards of a straightened smile, make sure to schedule a consultation appointment with your dentist to figure out the best Invisalign treatment plan for you!
About the Practice
Our dentists at Benchmark Family Dental work hard to create a welcoming and comfortable environment so even people who don't enjoy coming in for their semi-annual cleanings learn to love it. With over a decade of experience, they can offer you the highest quality of dental care. Dr. Derek Stringham is certified in Invisalign orthodontics and can allow you to experience a hassle-free straightened smile. For any questions or to schedule your Invisalign consultation appointment, visit our website or contact us at 254-213-7794.