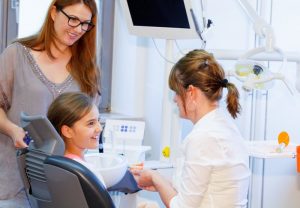 With the new school year in full swing, you're still making the necessary tweaks to ensure that your child has the best opportunity to perform well. You also want to be sure that his or her oral health is as good as it can be. Your dentist in Copperas Cove says to accomplish that, it's important to pay attention to what's eaten for lunch while at school. Continue reading to learn about the impact that different food choices can have on your child's teeth and gums.
Cavity-Causing Effects of School Lunch
When sugar is consumed and allowed to sit on the teeth, it attracts oral bacteria that feed on the leftovers. As they digest the sugar, they release acids that slowly begin to wear down the tooth enamel to cause cavities to form. Unfortunately, there are all types of foods and beverages available at school that can contribute to tooth and gum decay, such as vending machine "junk-food," sugary desserts and processed foods provided in the cafeteria.
If your child will be eating lunch offered by the school, it's important to provide some guidance. Any carbohydrates (starchy foods) consumed should be accompanied by a protein source (fish, chicken, beef, nuts, etc.). The protein-rich foods will help to support their soft tissue maintenance. You can also encourage drinking milk, as the calcium it contains will help to fortify their teeth.
When Packing a Bag Lunch
If you desire to have greater control over what your child is eating during the school day, you can pack lunch at home. Here are some basic guidelines to follow:
Don't include any sticky foods that cling to the teeth.
Provide a low-to-no sugar beverage or water to drink.
Be sure to include a combination of fruits, vegetables, grains, protein and calcium fortified products (cheese, yogurt, milk, etc.).
In addition to packing healthier food and beverage items in your child's lunch, it's a good idea to include a travel-sized toothbrush and toothpaste. Therefore, if time permits, he or she can perform dental hygiene.
What You Can Do at Home
Even if you pack a lunch, there are still vending machines and the option to purchase unhealthy foods from the school cafeteria. One way to have better peace-of-mind about what your child is consuming is to set a standard for healthy eating at home.
It's also important to encourage consistent and proper dental hygiene, which should include brushing and flossing at least two times a day. Then, you can fortify your efforts by scheduling dental visits. By incorporating all these positive elements, you can feel confident that school lunches won't derail your child's oral and overall health.
About the Author
Dr. Daniel Caraveo earned his dental degree from the Baylor College of Dentistry. An avid learner, he has completed several hours of continuing education throughout his career. Dr. Caraveo helps parents experience greater peace-of-mind by providing superb dental care for children of all ages at Benchmark Family Dental, and he can be reached for more information or to schedule a visit through his website.