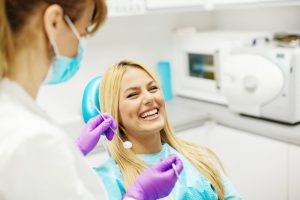 If you're like most people, then you spent the majority of last year scurrying to keep up with your busy schedule. As a result, you may not have been as vigilant about maintaining your dental health as you would have liked. This year, you have a chance to get off to a brand-new start so that you can have strong teeth and gums. How should you go about making the necessary changes, though? As you read on, your dentist in Copperas Cove provides some expert tips!
It Starts with a New Mindset
Before any action can be effectively taken, it's necessary to have the right frame of mind. One way to accomplish this is to gain an understanding of how pivotal the care of your teeth and gums is to your oral and overall health.
This starts by realizing the constant threat that is present: the growth of oral bacteria. Although they are always present in your mouth, these microorganisms look for any leftover food and beverage particles, and flock to them to feed. If allowed to fester, they can contribute to such problems as cavities, gum disease, tooth loss and several other dental health nightmares.
Additionally, failing to maintain excellent dental care can also leave you more susceptible to hypertension, stroke, heart disease and several other life-threatening conditions. By understanding these potential challenges, you can take the necessary steps to protect yourself with a since of urgency.
The Power of Oral Hygiene
When you commit to brushing and flossing at least two times a day, you are essentially saying "yes" to better oral health and total wellness. These two simple activities will help to curb the development of plaque, and better ensure a lasting and attractive set of teeth.
How Your Dentist Can Help
Even with changing your mind about the importance of your dental care and committing to practicing excellent oral hygiene, it's a must that you visit your dentist semi-annually for checkups and cleanings. Here's what you stand to gain by doing so:
A chance to ask questions and improve your dental IQ
Early identification and treatment of any developing dental health issues
A way to receive expert advice on how to improve your dental health
The motivation and inspiration you need to make lasting improvements in your dental care habits
You have an amazing opportunity before you to take control of your oral health in the new year. It starts by being proactive and scheduling a visit today!
About the Author
Dr. Derek Stringham earned his dental degree from Lake Erie College of Osteopathic Medicine. He has additionally gone on to receive advanced postgraduate training in a host of treatment modalities. Dr. Stringham provides care in a calm and relaxed manner at Benchmark Family Dental, and he can be reached for more information through his website.