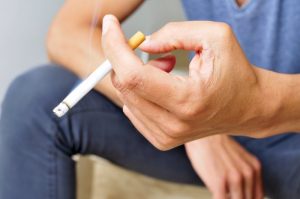 It's much easier to preserve your dental health than it is to restore it after severe damage has been done. To experience dental wellness, you need to be aware of any activities that could stand as roadblocks to the health of your mouth, teeth and gums. Your dentist in Copperas Cove lists 5 bad habits that can cause big problems for your oral health. Read on to be informed so you can make lasting and positive changes today that will lead to a brighter tomorrow!
Habit #1 – Eating Snack Foods
The main nemeses of excellent dental health are oral bacteria. These microorganisms are always present, but when you consume items high in sugar, bacteria flock in that direction to feed on the leftovers. As they digest the sugars, they leave an acidic footprint that can lead to tooth erosion and a host of other problems over time. A simple solution is to make better selections (more natural foods like fruits and vegetables).
Habit #2 – Tobacco Usage
One of the most detrimental activities for your oral health that you can participate in is to either smoke or chew tobacco. Both methods of usage cause the release of harmful toxins that can lead to a dryer mouth, making it a playground for bacteria growth. There is no healthy way to use tobacco. Thus, it's just better to avoid it all together.
Habit #3 – Brushing Too Hard
While it may seem that the more pressure you apply to your teeth, the better you'll be able to remove debris, this can actually cause problems. That's because the protective enamel that covers your teeth can be damaged when too much pressure is applied to it. You'll be better off relying on proper technique than force.
Habit #4 – Improper Usage of Your Teeth
If you're like most people, then you've been tempted at times to use your teeth for more than just chewing food. Instead, they can become tools to pry open packages or trim your fingernails. Such activities can possibly result in a dental emergency. So to be on the safe side, only use your teeth to aid in chewing and digesting your food.
Habit #5 – Teeth Grinding (Bruxism)
Bruxism is a serious condition that can cause premature tooth wear. This is due to an improper amount of pressure being applied to your teeth. If you're suffering from this condition, it's important to seek treatment from your dentist before your enamel is completely compromised, the sensitive areas of your teeth are left vulnerable or you suffer tooth loss.
If you need to reverse any of the above habits, you're not alone in your quest for excellent oral health. Your dentist is your #1 ally, so don't hesitate to reach out to schedule a visit today!
About the Author
At Benchmark Family Dental, we strive to prevent problems before they can mushroom into greater issues. To help patients achieve the best oral health possible, we provide preventive care that quickly identifies and addresses any flare-ups. To experience the peace-of-mind of having your mouth, teeth and gums protected, contact us to request a visit today.