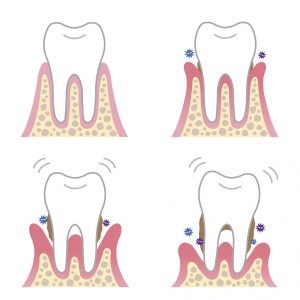 Did you know that 178 million Americans are missing at least one tooth? One of the major causes of tooth loss is gum disease, which is why your dentist in Copperas Cove wants to share the signs and symptoms of this common oral health problem. To keep your smile safe, healthy, and shining brightly, use these tips from the team at Benchmark Family Dental to spot periodontal problems when they can still be treated.
What Is Gingivitis?
Gingivitis is the first stage of gum disease. This common condition is caused by oral bacteria that thrives on sugar, and causes inflammation and infection in the gum tissue, or gingiva. It's remarkably common, and with increased professional cleanings, extra vigilance about brushing and flossing, and medicated mouthrinses, this stage of gum disease can often be reversed. If you notice any of these symptoms, talk with Dr. Patrick O'Malley right away – it's important to treat gum disease early to prevent major consequences like tooth loss. Be on the lookout for:
Bleeding when flossing or brushing
Swollen gums
Bad breath
Red gum tissue
What Is Periodontitis?
As gingivitis progresses, it becomes periodontitis, the second stage of gum disease. At this stage, we can use scaling and root planing and Arestin antibiotic therapy to treat bacteria problems below the surface of the gum. If you notice any of these signs, schedule an appointment with our team right away:
Bright red gums
Swollen, tender, or painful gums
Spaces between the teeth
Pus buildup between the teeth
Lingering bad breath
A bad taste in the mouth
Loose teeth
Changes in your bite or how your teeth fit together
What Is Advanced Periodontitis?
In this third and most advanced stage of gum disease, it's important to seek treatment as soon as possible, since tooth loss can be right around the corner. Contact us ASAP if you have the following symptoms:
Gums that bleed and are swollen
Severely receding gums
Exposed tooth roots
Deep periodontal pockets
Misaligned or loose teeth
Tooth loss
How Can I Prevent Gum Disease?
Your gums are the foundation of your teeth – no matter how pretty your pearly whites are, your gums are just as important, since without them, your teeth have no support. Use these strategies to prevent gum disease:
2×2 – Brush your teeth gently for two minutes twice a day.
Floss – Brushing only cleans a little over half of your teeth's surfaces. Get where the brush can't reach by flossing twice a day.
See Your Dentist – Regular preventive care and professional cleanings are crucial in preventing gum disease.
Family History – If gum disease runs your family, take extra care and prioritize your oral hygiene at home and with Dr. O'Malley.
Limit Sugar – Plaque and oral bacteria thrive on sugar, so limit sweets, especially beverages – sodas and fruit juices constantly bathe your teeth in sugar, fueling these detrimental substances with every sip.
Stop Smoking – If you use tobacco in any form, you're not only increasing your risk for oral cancer, you're upping your odds of developing gum disease and losing your teeth. Quit tobacco in all its forms to save your smile – and your overall health.
Be Honest – If you notice your gums bleeding, talk with Dr. O'Malley about how you can address your oral health. Oftentimes, just increasing your flossing, using a special prescription mouthwash, and coming in for an extra cleaning or two can be enough to turn your gums around.
Now that you know what to look for to spot gum disease when it's easily treatable, schedule your appointment with Benchmark Family Dental to get a deep clean and stop gum disease before it starts!