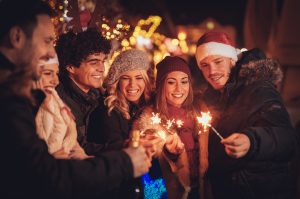 We all know that the holiday season is known for the abundance of savory and sweet delights that you can find at just about any house you visit. To indulge in the holiday festivities, does that mean you have to leave the health of your teeth and gums in jeopardy? Your dentist in Copperas Cove says, "Absolutely not." In fact, if you'll take a moment to read on, you'll discover 5 simple yet effective tips to fortify your oral health!
#1 – Set a Food and Beverage Budget
The number of sugar-laden foods and beverages that you can get your hands on during the holiday season is infinite. Therefore, it's in your best interest to set a budget for how much you'll allow yourself to indulge. This is important to do given that the leading attraction for oral bacteria is leftover sugar. By setting some limits on your consumption, you can better prevent any dental mishaps.
#2 – Drink More Water
During the holidays, your sodium intake will normally be higher, which can leave you dehydrated. Thus, it's important to increase your water intake. There's another key benefit to gulping down more water, though; it will help to rid your mouth of leftover food and beverage particles that could lead to cavities and other serious dental health issues.
#3 – Up Your Protein Intake
While carbohydrates will be the star of most holiday meals, it's definitely worth adding more protein to your plate. Not only will it help to curb your appetite, but it will also aid in preventing cavities and strengthening your enamel. Some options are cheese, nuts, turkey, chicken or other meats.
#4 – Practice Excellent and Consistent Oral Hygiene
One of your main defenses against cavity development and gum deterioration is to brush and floss at least twice daily. To see the best benefits, though, you can clean your teeth after every meal. However, you should be sure to wait 15-20 minutes to prevent any damage to your enamel.
#5 – Pay Your Dentist a Visit
It's especially beneficial to visit your dentist for preventive care during the holiday season. That's because it will give you with the peace-of-mind of knowing the status of your oral health. It will also provide an opportunity for you and your dentist to formulate a plan to address any budding issues before they become a serious threat to the health of your teeth and gums.
The holiday season is a fun time of year, and you should be able to enjoy it with your family and friends. By taking heed to these suggestions, you can carry excellent oral health into the new year!
About the Author
Dr. Daniel Caraveo is a graduate of Baylor College of Dentistry, where he earned his DDS degree. He understands that festive eating and drinking are staples of the holiday season, which is why he offers preventive care and educates his patients about how to protect their teeth and gums. Dr. Caraveo practices at Benchmark Family Dental, and he can be reached for more information through his website.