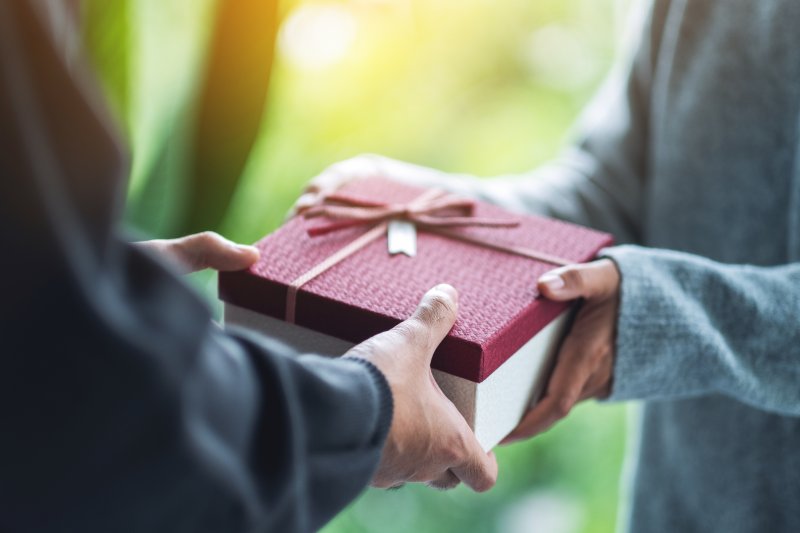 Every year on February 14, countless couples gift each other candy, flowers, chocolates, and other classic Valentine's Day gifts. Though there's nothing wrong with sticking to the classics, have you ever considered giving your loved one a unique, out-of-the box present that can help them maintain a healthy, beautiful smile? To help you come up with the perfect present for your partner, here are four Valentine's Day dental gifts that are sure to make them smile.
Gift #1: Tooth-Healthy Candy
Oral bacteria feed off the sugar in the foods we eat and release acids. These acids attack our enamel, which weakens the teeth and makes them more susceptible to decay. Instead of gifting treats that can harm your loved one's smile, give them dark chocolate with a high cocoa content. It will satisfy their sweet tooth without exposing their teeth to high levels of sugar. There are also various sugar-free varieties of classic candies that make excellent gifts.
Gift #2: Cosmetic Dentistry
Has your loved one mentioned wanting to improve their smile? Cosmetic dentistry may be the perfect gift. There is a range of treatments that can fix anything from discoloration to alignment issues. Speak with your dentist to see what options they have available and determine which one would be most beneficial for your partner.
Gift #3: Dental Hygiene Products
Rather than giving your partner licorice, chocolate, cupcakes, and other sweets that can harm their smile, why not give them toothpaste that tastes like them? There are all kinds of interesting flavors of toothpaste that will make dental hygiene more enjoyable. If they are in need of a new toothbrush, you can create a gift basket containing an electric one and a few tubes of dessert-flavored toothpaste.
Gift #4: A Dentist-Approved Dinner
If you're interested in more of a classic Valentine's Day experience, why not make your partner dinner? A few dentist-approved foods that you can include in the meal are:
Fresh, crisp fruits and vegetables – Eating apples, carrots, pears, and celery increases saliva production, which helps wash away harmful oral bacteria.
Low-fat and fat-free dairy products – Milk, cheese, and plain yogurt are a few examples of dairy products that contain calcium, which helps keep your bones and teeth healthy.
Lean meats – Chicken, turkey, and other lean meats are full of protein and phosphorus, two things your mouth needs to remain healthy.
Fish – Salmon, sardines, and anchovies contain calcium, vitamin D, phosphorous, fluoride, protein, iron, and a range of other smile-healthy nutrients.
As you can see, there are many ways to give your loved one a gift that encourages a healthy smile. Giving your partner Valentine's Day dental gifts may not be the first thing that comes to mind, but it's a unique and useful idea that they're sure to remember for years to come!
About the Author
If your smile needs an upgrade or you want to treat your partner to a cosmetic dental treatment for Valentine's Day, you've come to the right place. At Benchmark Family Dental, Dr. Daniel Caraveo, Dr. William Wicheta, and their talented team take pride in treating the patients with compassionate, effective care they deserve. They offer a range of cosmetic treatments like teeth whitening and porcelain veneers so you or your partner can finally achieve the smile of your dreams. Call Benchmark Family Dental at (254) 547-4866 or visit their website to learn more or to schedule an appointment.