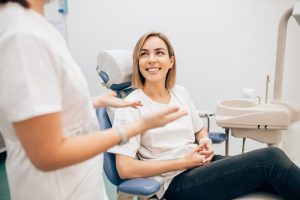 Because "life happens," maybe you haven't visited a local dentist as regularly as you should. If so, you're not alone, as millions of Americans are behind on dental visits, whether it's because of financial reasons, time constraints or anxiety. What's most important is that you're ready to get back on track now. What can you expect to happen when you visit a dentist in Copperas Cove? Continue reading to find out!
The Cleaning May Take Longer Than Usual
As to be expected, a longer hiatus between visits means there's a greater chance of plaque and tartar accumulation. To provide a thorough cleaning, it may take the dental hygienist a little longer. It's all to your advantage, though, as it plays a huge role in preventing cavities and gum disease.
If the thought of spending an extended period in the dental chair causes anxiety, you can ask if it's okay to listen to music or watch videos to help the time pass.
X-rays Will be Taken
The dentist will need to reestablish a baseline for your oral health. Therefore, you can expect the hygienist to take a series of X-rays to provide an overview of the current state of your inner mouth and teeth. This information will remain on file so it can be referred to at future visits.
You'll Receive a Comprehensive Examination
The hygienist and dentist will examine your teeth and gums. Therefore, you can rest assured that any budding issues will be discovered so they can be treated before they get worse. The hygienist will look for any initial signs of cavities or gum disease, while the dentist will perform a more in-depth assessment to make sure there are no structural problems with your teeth and jaw.
The Dentist Will Chat with You
At the conclusion of your visit, the dentist will sit down with you to discuss any findings. At this time, he or she will make suggestions for what needs to be done moving forward. This will also be your opportunity to ask any questions you may have about a proposed treatment, your dental care regimen and any other areas of concern pertaining to your oral health.
Although it may have been a while since your last dental checkup, the fact that you're poised to take action now is commendable. It's never too late to recommit to achieving excellent oral health and a confident smile!
About the Author
Dr. Daniel Caraveo earned his dental degree from Baylor College of Dentistry. Throughout a career that has spanned over a decade, he has remained focused on providing the absolute best in care to his patients. Thus, Dr. Caraveo takes several hours of continuing education annually to further expand his knowledge and to stay abreast of the latest techniques and technology. He offers preventive care at Benchmark Family Dental, and he can be reached for more information or to schedule a visit through his website.