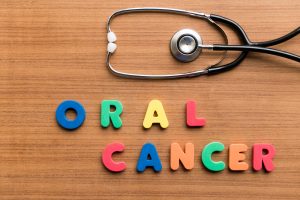 Cancer – no matter where it presents itself in the body – this disease is frightening, and for good reason. Since this April is Oral Cancer Awareness Month, your premier dentist in Copperas Cove, Benchmark Family Dental, shines the spotlight on this serious condition, to educate patients and help prevent it from happening in the first place. In this post, learn about cancers of the mouth and throat, and how you can work with our team to stay ahead of and treat this illness that affects up to 50,000 people in the US each year.
What Are The Most Important Facts About Oral Cancer?
Dr. Patrick O'Malley, your superior family dentist in Copperas Cove, makes patients aware of the most common reasons for oral cancer. Read and share the information below to keep your smile – and your overall health – intact.
#1 – Oral Cancer & Tobacco
As expected, oral cancer is most closely related to the use of tobacco products. Smoking, chewing, dipping, or using tobacco in any form is the biggest contributor to oral cancer. Be aware that cigar and pipe smokers are at the greatest risk for developing this serious disease, but all tobacco is unhealthy for your mouth, as well as your entire body.
Prevention Strategy: Quit today! If you need help, talk with our team or your doctor.
#2 – Oral Cancer & Alcohol
Drinking to excess and drinking too frequently can negatively affect the whole picture of your well-being. Research has shown a link between liver disease like cirrhosis and oral cancer, and populations who abstain from alcohol have less occurrence of cancers of the mouth and throat. While moderate use seems to be all right, there is a clear connection between oral cancer and drinking alcohol, especially if you smoke when you drink.
Prevention Strategy: To stay safe, avoid drinking alcoholic beverages more than twice a week, and don't have more than two drinks at a time.
#3 – Oral Cancer & HPV
Coming in contact with the strain of the virus called HPV16 greatly increases your risk for developing oral cancer. Work with your doctor, practice safe sex, and be monogamous to cut down your risks on being exposed to this virus.
Prevention Strategy: If you're a man or woman under the age of 26, talk with your doctor about getting vaccinated for HPV.
#4 – Oral Cancer & Gender
Men are more commonly diagnosed with cancers of the mouth and throat than women. If you're a man, consider getting screened more frequently, or talk with your dentist about getting tested at a younger age.
Prevention Strategy: Regardless of gender, avoid tobacco and limit alcohol consumption. Eat healthy, exercise, minimize stress, take a multivitamin to fill in any nutritional gaps to keep your immune system strong.
#5 – Oral Cancer & Prevention
Because this condition is often caught in its later stages, it tends to be more fatal than other cancers that people are more familiar with. In fact, at the five-year mark, survival rates for oral cancer are only around 50%, just because the late discovery of this condition.
Prevention Strategy: Get screened by your family dentist in Copperas Cove to catch this disease when it's treatable – early detection is the key to recovery.
What Are The Symptoms Of Oral Cancer?
Many symptoms can be subtle – like a chronic sore throat or hoarseness in your voice, so review the list of oral cancer symptoms. If you're exhibiting any of these signs, reach out to use right away.
Get screened and participate in Oral Cancer Awareness month this April by scheduling your appointment with Benchmark Family Dental to protect your health!