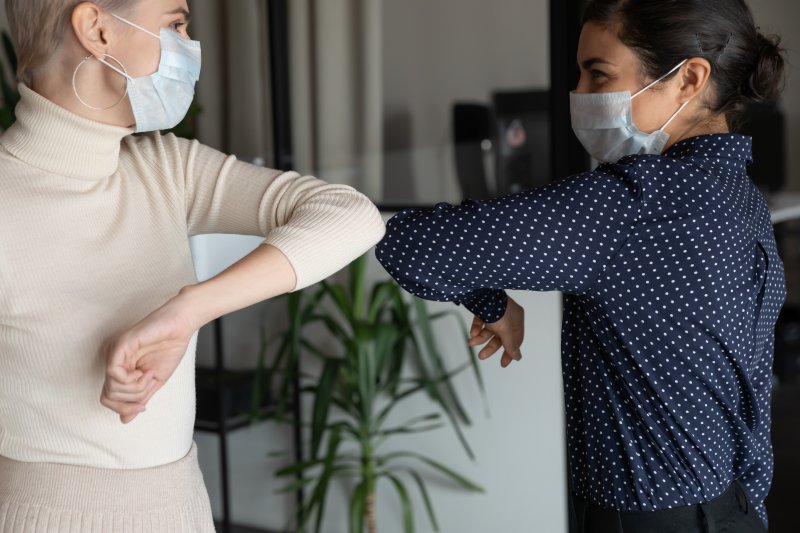 Did you know that experts believe implementing social distancing has prevented 185,000 deaths? Over the last few months, grocery stores, banks, and virtually every other business has re-designed their buildings to incorporate social distancing guidelines. Even your dentist is retrofitting their office to make maintaining a 6-foot distance a practical reality! Your dentist in Copperas Cove shares five ways you can practice social distancing at your next visit.
No Handshakes or Hugs
Pre-COVID-19, you may have greeted your dentist and their team with a warm hug or enthusiastic handshake. However, these greetings are not pandemic-friendly or currently recommended by the Centers for Disease Control and Prevention. Therefore, you and your dentist should opt for an elbow bump, friendly wave, or big smile.
Virtual Waiting Rooms
Let's face it– waiting rooms before 2020 were not social distancing friendly by any stretch of the imagination. Therefore, dentists have implemented virtual waiting rooms that allow you to check-in from your phone and sit in your car until the treatment room is ready. Not only does this limit your contact with other people, but it also allows the office staff to control the foot traffic in and out of the building.
One-Way Traffic Signs
To ease your anxiety and make your experience as stress-free as possible, dentists are placing signs throughout their office with clear instructions. While some of these directives are for the staff, others are dedicated to providing patients with information on how they can remain safe during their visit. One of these safety measures are one-way traffic signs that direct patients throughout the office without breaching the 6-foot distance guideline.
Installed Clear Barriers
To add another layer of protection, dentists are installing clear barriers throughout their practice. These hard plastic guards help block the movement of airborne particles, which is largely how the novel COVID-19 virus spreads. Also, these barriers are cleaned regularly to ensure that the environment is as sterile as possible.
Extensive Sanitation Measures
While in the treatment room, you and your dentist will inevitably breach the social distancing guidelines. Therefore, they are taking painstaking measures to ensure that extensive sanitation practices are in place to keep you and their team safe. A few of these protocols include:
Using CDC-approved instrument sterilization.
Cleaning after every appointment.
Deep cleaning each evening.
Frequently washing their hands.
Offering hand sanitizer both before and after your appointment.
Using additional personal hygiene standards for staff (i.e., no long nails, no non-essential jewelry, etc.).
As we transition out of quarantine, it is important to continue to do our part in the fight against COVID-19. Therefore, make sure to follow all the social distancing measures your dentist has put in place to ensure that your safety is protected while prioritizing your oral health!
About Benchmark Family Dental
At Benchmark Family Dental, Dr. Daniel Caraveo, Dr. Gary Pundt, and the entire team share a philosophy built on the importance of "Lifetime Care." This patient-centered focus allows Benchmark Family Dental to recommend treatment based on each person's unique needs with the highest quality of dental care. If you would like information on the additional measures they are taking to keep their patients safe during COVID-19, visit their website or give them a call at 254-547-4866.