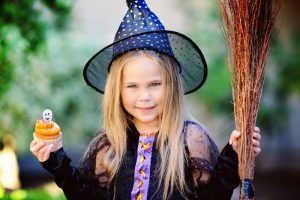 Halloween is one of the best times to be a kid — but it can also be a real nightmare for you when your child comes home with bags full of candies and treats. From school, friends' houses, and after trick-or-treating, it seems there's no end to the sweets this time of year.
Your dentist in Copperas Cove wants to help you and your family avoid cavities (and sugar comas) during October. Keep reading for our top 5 tips for responsible candy consumption. Have some of your own? Don't hesitate to let us know!
#1: Set Up a Candy Zone
Limiting candy consumption to one room in the house is a good rule to have year-round, as it cuts down on overeating sweets for the whole family. Store candy in one location and have everyone agree to only eat it in that room. Choosing the kitchen as the Candy Zone will reduce mindless eating in front of the television or computer, too.
#2: Rule Out the Bad Guys
You don't want to be a grinch at halloween, but some candies just have to go (the American Dental Association agrees). Kids are at a higher risk of tooth decay before their enamel fully hardens in the teenage years, so casting away most or all of the stickier items that easily get caught in the teeth — like toffee, caramel, and hard candies — is a great idea for oral health. That's especially true if your child has braces or an orthodontic appliance, as sticky, chewy, and crunchy items are likely to pop off a wire or bracket.
#3: Divide Candy Into Portions
When your child returns from trick-or-treating on halloween night, have everyone pour their goodies out onto the floor or table (they will probably want to do examine the spoils anyway). Then, together, divide the goods into reasonable portion sizes and place into plastic baggies. Store these portions in the Candy Zone and limit everyone to one bag per day, every two days, each week, or whatever you feel comfortable with.
#4: Swap It Out
Another fun idea to take some of the focus off candy this time of year is to set up a halloween trade. You can get your kids to voluntarily give up some of the sweets in exchange for more exciting items, like a movie ticket or a special toy. It's a good way to reduce their sugar consumption without having to totally outlaw anything (and it may be the easiest way to achieve tip #2).
#5: Visit the Dentist
October is a perfect month to schedule a checkup and cleaning for everyone in your family. Your dentist can check for tooth decay and clean off plaque and tartar to get their smiles clean going into the holiday season.
About the Authors
Dr. Patrick O'Malley and Dr. "Doc" Edmondson are trusted family dentists serving Copperas Cove and surrounding communities. To learn more about their services or to schedule a pre- or post-halloween appointment for you or your loved ones, you are invited to contact the office at 254-547-4866.