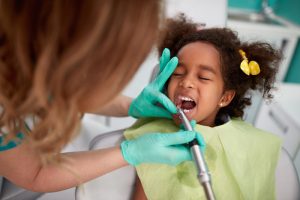 Have you ever heard of a reverse New Year's resolution? Well, we're kind of making it up right now — it's a commitment you make to do something before the New Year begins. So this year, before the craziness of the holidays sets in, make a reverse resolution to visit your dentist in Copperas Cove and take advantage of your unused 2017 dental insurance benefits! Any money you have accrued towards your deductible won't roll over to 2018, so acting now is a great way to benefit your smile… and your wallet.
Dental Insurance Works on a Calendar Year
We know life gets busy as we gear up for fall and the holiday season, but time is also running out on your dental insurance benefits. Dental insurance plans are set on a calendar year, meaning yours will renew again on January 1, 2018.
When the clock strikes midnight on New Year's Eve, you will lose eligibility for any free treatments you haven't taken advantage of, and any money that you have accrued toward your deductible will begin at zero.  Your deductible or copay could increase as well with the new calendar year.
So what can you do to cash in on your investment in oral health? Act now to ensure you receive the benefits you are eligible for before they expire. Contact your dentist for a verification of benefits to find out if you have met your deductible and, if you have, what your annual maximum is. Your dentist can then help you determine whether or not there are any covered treatments that could help you on your journey to lasting oral health and wellness.
Six Month Checkups Are FREE
Preventive care is the foundation of every healthy smile. When you come in for a checkup and cleaning every six months, your dental team can clean away the plaque and tartar that cause cavities and gum disease. They can also catch problems almost as soon as they develop, which allows them to perform the most conservative treatment possible.
If you have not had two checkups and cleanings in 2017, don't forget that these appointments are completely covered by your dental insurance plan. Your children may be eligible for dental sealants and fluoride treatments, too.
Let's Get Your Smile Ready for the Holidays
Dental offices get busy during November and December, as people get geared up for the holidays and also realize it's time to cash in on their insurance plan. For the most convenient scheduling, book a visit with your dentist right now! That way you can go into the holiday season with your cleanest, healthiest smile — all thanks to your unused dental benefits.
About the Authors
Dr. Patrick O'Malley and Dr. "Doc" Edmondson are local leaders in providing general, cosmetic, and restorative dentistry. To learn more about their services or about dental insurance at Benchmark Family Dentistry, we invite you to contact the office at (208) 376-2726.