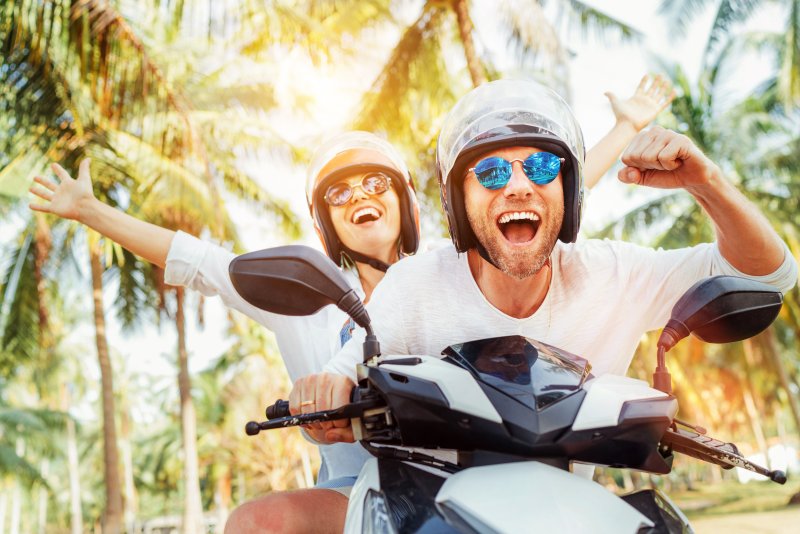 Are you planning on visiting the beach or traveling for summer vacation? If so, then making sure you look and feel your best during your trip is a top priority. One of the most important aspects of your health and appearance is your smile. For this reason, you'll want to protect your pearly whites throughout your fun in the sun. Keep reading from your dentist in Copperas Cove on four ways you can prevent a dental emergency from ruining summer vacation!
#1: Schedule a Dental Visit Before Heading Out
Even if you aren't currently experiencing sensitivity or discomfort in your teeth, it's a good idea to get an oral examination before your trip. Not only will your dentist polish your pearly whites, but they'll monitor your dental health and offer treatment for any developing problems they might detect. This can help you avoid more serious issues from starting and allow you to make the most of your travels along with a confident smile.
#2: Stock Up on Healthy Food Options
While you'll want to maintain good dental hygiene every day wherever you go, you should also keep your diet in mind. Many of the popular summer treats are high in sugar content, such as ice cream, which can nourish the body while also putting your teeth at risk of cavities. It's best to avoid or limit foods like cookies and candies, as well as acidic beverages like sodas and sports drinks. Try stocking up on healthier choices like veggies, fruits, and bottled water.
#3: Bring a Dental Emergency Kit
A dental emergency can still happen when you least expect it, so it's wise to prepare ahead of time. You can do this by packing a small, portable kit consisting of the following:
Your dentist's phone number
A handkerchief
A small container with a lid
Gauze
Saline solution
Ibuprofen
#4: Wear Protective Gear During Physical Activities
If you enjoy playing sports, then you might consider getting athletic mouthguards to protect your smile. These are both comfortable and effective at preventing injuries, from a chipped to a knocked-out tooth. Many restorative treatments can be costly in the long run, so it's best to preserve your pearly whites in advance. Speak with your dentist if you're interested in this protective gear, and they can recommend the best product for you.
Although dental emergencies can sometimes come out of nowhere, you can still practice these few tips to keep your teeth safe. This way you can fully enjoy your summer vacation and all the new memories you'll make!
About the Author
Dr. Daniel Caraveo earned his dental doctorate from the Baylor College of Dentistry. After working in the US Army, he moved to Copperas Cove, TX, and has provided outstanding care for over a decade. He is proud to offer multiple advanced and comprehensive services for the community, including emergency dentistry and dental checkups/cleanings to maintain your healthy smile. If you'd like to schedule an appointment before summer vacation, feel free to visit our website or call 254-547-4866.