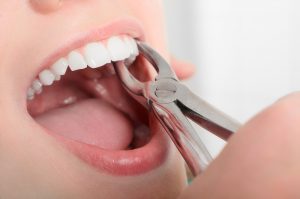 If you or someone close to you are experiencing a dental emergency, don't panic. That's easier said than done though, right? Your emergency dentist in Copperas Cove, Dr. Patrick O'Malley, knows urgent situations involving your oral health can be stressful, but it's easy to keep your cool when you know just what to do next. In this week's blog post, we cover important next-steps to get out out of pain, into our office, and on with your life as soon as possible!
Pick Up the Missing Pieces
A tooth that has been completely dislodged from the gum line needs to be treated within two hours. Beyond this time, reattachment is usually impossible — so call our office right away if the injury occurs within office hours. Find the knocked out tooth and rinse away any debris. Do not scrub the tooth or touch its root, though, as doing so could damage the sensitive cells. Keep the tooth moist by storing it in its newly empty socket or in a cup of milk or salt water until you can make it into our office. If you have just broken off part of the tooth structure or damaged a restoration (i.e. a filling or crown), find the broken pieces, rinse them off, and bring them in with you to your appointment. We may be able to reattach them.
Stop the Ache
Don't ignore a toothache. Healthy teeth don't hurt, after all, and infection or decay are unlikely to get better on their own. When you don't seek professional treatment for an aching tooth, you're leaving yourself at risk of an abscess that may cause you to wake up at 2 am one morning in serious pain.
If it happens to you, try to manage discomfort until you can come into our office by taking an over the counter pain medication. Rinse your mouth out with warm salt water to kill bacteria, reduce swelling, and soothe the area.
Apply Pressure to Stop Bleeding
If you're bleeding profusely as a result of your dental emergency, place pressure on the injury with a clean gauze or cloth. Be firm but gentle, and don't take it off until the blood flow has stopped or slowed.
Know When to Seek Medical Attention
Your dentist in Copperas Cove is equipped to handle most dental emergencies, but there are some cases that should be treated by a medical doctor. If you are bleeding from the wound for more than ten minutes, head straight to the ER for urgent attention. The same goes if you've broken a bone in your jaw.
Contact Us Right Away!
We've included some important next-steps in this post, but above all, you should contact your emergency dentist first. When you do, we'll talk you through what's going on, provide specific tips for your injury, and set up a time for you to come in as soon as is necessary. Save our number in your phone right now — (254) 213-7794 — and contact us ASAP the next time something goes wrong with your smile.