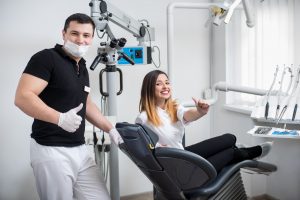 If you're paying for private dental insurance, you can invest in a healthy smile for reduced rates. Your dental plan is designed to keep your teeth and gums healthy to lower your long-term oral health expenses. Although over half of adults have coverage, less than 3% meet or exceed their annual allowance. Let's face it, dental insurance is confusing, but don't let that stand in your way of investing in your smile. Here's how to choose the right dentist in Copperas Cove to maximize your annual benefits.
Understanding Your Dental Insurance
Dental care focuses on prevention to reduce future costs by keeping teeth and gums healthy. Research shows every $1 spent on prevention can save up to $50 on restorative and emergency fees. By paying your monthly premiums, you have access to 100% preventive coverage. You can visit your dentist twice a year for a cleaning and checkup for only a co-payment.
If a problem arises, like a cavity, it can be treated quickly without worrying about a large bill. After reaching your annual deductible, you can use your dental insurance to offset the amount you pay out-of-pocket. Your benefits can cover up to 80% of the cost of common treatments, like fillings, crowns, and tooth extractions. You can use your annual allowance to restore your oral health to safeguard your smile.
In-Network VS Out-of-Network Dentist
Your dental insurance recommends choosing a dentist who is in their network because they have pre-negotiated rates with the dental practice. You'll enjoy a flat fee for common treatments; however, there are limitations to the procedures that are covered. Although you'll benefit from more coverage at the time of service, only specific treatments are included.
As an alternative, you can choose an out-of-network dentist. Despite common belief, you can use your dental insurance at an out-of-network dentist. You'll have to pay the difference between the dentist's fees and your insurance's allowable amount. Overall, you'll enjoy more personalized services, but you may have to pay more out-of-pocket.
Don't Wait Until It's Too Late
Your dental insurance expires at the end of the calendar year. If you're like most Americans, you likely have several benefits you're about to lose. If you don't use all your coverage, you aren't reimbursed for your premiums or deductible. Not to mention, nothing will carry over to accumulate into the new year. You can lose hundreds to thousands of dollars that could have been spent on improving your smile.
Don't throw money down the drain. Keep a healthy smile at the top of your priority list by maximizing your dental benefits before the end of the year.
About Dr. Daniel Caraveo
Dr. Caraveo earned his dental degree from the Baylor College of Dentistry. He regularly continues his training to provide up-to-date services. He works with many dental insurance plans to keep a healthy smile affordable for everyone, including Aetna, Cigna, Humana, and more. If you have dental benefits you're about to lose, contact our office today to schedule an appointment.