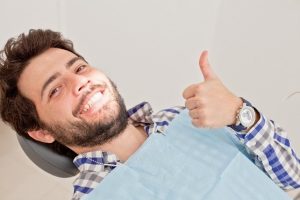 Regular care from your dentist is vital to promoting the health of your teeth and gums. However, for some, even the simplest of appointments is a very uncomfortable experience due to dental-related fears and phobias. If this sounds familiar, you likely put off going to the dentist. By doing so, you place your oral health at risk. At Benchmark Family Dental, Dr. O'Malley understands that you need a little extra care to help you feel at ease when in our office, which is why he offers sedation dentistry in Copperas Cove. Now, you can conquer your fear to keep the health of your smile a priority.

How Can Sedation Dentistry Help Me?
It is estimated that as much as 15% of Americans delay their dental care due to fears, phobias, and anxieties. These issues can be the result of various factors, such as embarrassment, fear of pain or needing a procedure, or the environment itself. No matter the cause behind your discomfort, sedation will help you relax to enjoy your appointment.
Although sedation is often used for those with dental-related fears, it can also help those who have unique situations, such as difficulty keeping the mouth open or staying in one position for too long. Dr. O'Malley may also recommend it if you need multiple or lengthy procedures to help make your treatment more comfortable.
What are My Options for Sedation?
As a dentist in Copperas Cove, Dr. O'Malley is specially trained in the use of sedation to administer it safely and effectively for your peace of mind. After an initial consultation, he will determine whether it will benefit you during your appointment. If so, he offers nitrous oxide to help you relax.
Nitrous oxide, more commonly known as laughing gas, has been used in the dental field for decades. You will inhale the sedative through a mask that is placed over the nose. You will quickly notice the effects of it as your fears subside within just a few minutes. You will begin to feel more relaxed and comfortable while Dr. O'Malley performs the necessary treatment.
During the appointment, you will be closely monitored to ensure your safety. After your procedure is complete, the mask will be removed. Within a few minutes, the effects will completely subside so you can even drive yourself home from your appointment. There are no lingering side effects, allowing you to resume your normal activities that exact same day after your procedure.
Is Sedation Dentistry the Right Option for Me?
If you are tired of fearing the dentist, it is time to see if sedation dentistry is right for you. We will work with your personal comfort level to help you overcome your anxieties and phobias. Now, you have no reason to delay your dental care. Contact Benchmark Family Dental today to schedule your consultation. We look forward to helping you relax to enjoy your time in our office while we promote a healthy, beautiful smile.