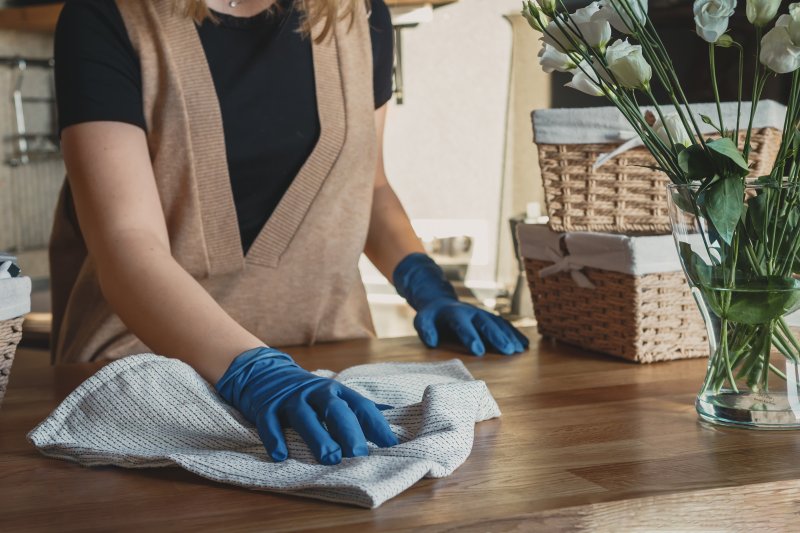 It's nearly April, so it can't be denied – Spring is here again! The weather is warming, plants are blooming, and the world seems less gray. Of course, this season's return also means it's time for another activity: spring cleaning. Even as you sweep out your home's cobwebs, though, don't forget your smile could also use a touchup. Luckily, your Copperas Cove dentist is here to help out. To that end, use these three methods to perform a spring cleaning for your teeth.
Revamp Your Home Dental Tools
A key principle behind spring cleaning is "out with the old, in with the new." Well, oral care items aren't an exception to that rule. As such, take time to toss outdated home dental tools and bring in some updates.
For example, throw out any expired mouthwash or toothpaste. These products aren't as effective at teeth cleaning. Instead, buy fresher varieties so their fluoride can strengthen your tooth enamel.
Similarly, switch out your old toothbrush. The American Dental Association suggests using a new one every three to four months, or sooner if you've been sick. While you're at it, you could also opt for upgrades – perhaps an electric toothbrush with softer bristles.
Set a "Spring Cleaning" Dental Visit
There's only so much you can do to clean your teeth yourself. You're just one person, after all. That said, set a dental checkup and cleaning with your local dentist.
Don't forget: these dental visits are top-grade preventive care. You can rely on them to brush away plaque, remove excess tartar, and detect hidden oral issues. To top it off, they even let you ask a pro dental team about concerns and custom advice.
Get a Polished Look with Teeth Whitening
Admittedly, clean teeth don't always look the part. They sometimes have stubborn stains that standard checkups can't remove. As an extra precaution, then, add a teeth whitening treatment to your other dental efforts.
In particular, getting teeth whitening from a dental professional is best. Over-the-counter varieties exist, but they usually aren't safe or effective. Rather, your best bet is to see a dentist for in-office treatment or a take-home kit. Either approach will surely give you a whiter grin by up to six to eight shades!
Ultimately, you can trust a spring cleaning for your teeth is always a good call. Therefore, try the tips above so your teeth are as pristine as your home!
About the Practice
Benchmark Family Dental is based in Copperas Cove, TX. Led by Dr. Daniel Caraveo, our practice takes a robust patient-centered approach to dentistry. As such, we perform customized preventive, cosmetic, and restorative treatments, as well as emergency dental procedures. You can trust that we'll make your smile clean and beautiful! For more information or to book a visit, you can reach us on our website or by phone at (254)-547-4866.